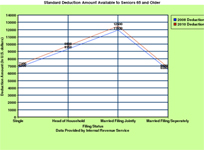 Standard deduction amount available to seniors 65 and older - Source: Internal Revenue Service (click to enlarge)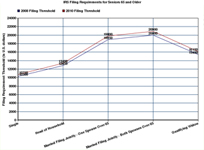 IRS filing requirements for seniors 65 and older - Source: Internal Revenue Service (click to enlarge)
IRS plans certification requirements for tax preparers
by Bill Hyden

Although the topic of yearly income tax returns might lead to apprehension for some seniors, they can worry less about finding a reliable person to do their taxes next year.

That's because the Internal Revenue Service plans to implement new requirements for paid tax preparers beginning in the 2011 tax filing season.

Dan Boone, IRS media specialist for Alabama and Tennessee, said that all paid tax preparers will have to be certified under the new rules.

"This is a groundbreaking moment as only two states, California and Oregon, have tried to regulate tax preparers," Boone said. "Other states tried but couldn't enact such regulations. This will help senior citizens easily and accurately find a good tax preparer."

The requirements were derived from the results of the Return Preparer Review, a comprehensive study that incorporated input from consumer advocates, tax professional groups, federal and state organizations and tax return preparers according to the IRS Web site.

Under new guidelines posted on the revenue service Web site, tax preparers must register for a Preparer Tax Identification Number. Tax preparers previously had no legal obligation to use a Preparer Tax Identification Number. Additionally, it will be mandatory for tax preparers to renew their registration with the IRS once during a three-year period. Tax preparers who receive fees from clients will also have to pay a user fee to the revenue service every three years.

According to the IRS Web site, tax preparers who are not attorneys, certified public accountants or enrolled agents will have to complete a competency test. Tax preparers in this group will have three years to meet IRS testing requirements.

Further, paid preparers will have to complete 15 hours of continuing education related to federal tax law updates, tax ethics and tax topics annually. Volunteers and those who prepare tax returns for free would be exempt from the proposed restrictions.

The AARP TaxAide program provides nearly 32,000 volunteers who assist seniors with tax preparation and counseling according to the organization's Web site. These volunteers are certified by the IRS.

Pat Bryant, AARP TaxAide coordinator for Tennessee, has assisted seniors with tax preparation for eight years. Bryant said her organization helps those who are uncomfortable with filing their own tax return electronically.

"We are the only program that helps seniors electronically file their taxes for free," Bryant said. "The number of returns I have completed for seniors has declined a little bit in recent years. A lot of people are using free software over the Internet instead of coming to us for help."

Bryant said the new testing requirements proposed by the IRS will help minimize tax preparer fraud.

"The IRS would be able to track paid preparers who continually file fraudulent or improper returns under the new regulations," Bryant said. "Also, you will not see a used car salesman or a local furniture store offering tax services because they don't want to go through the testing and licensing that will be involved with the new requirements."

Boone said that despite pending changes regarding IRS certification of paid preparers, his agency remains diligent in pursuing tax preparer fraud.

"This year is the last filing season regulated by the old rules," he said. "Thus, we have stepped up the number of preparer visits we have made. All tax preparers that are being visited have high rates of error or are suspected of fraud."

Tax preparation assistance through the AARP TaxAide program is available for Memphis seniors at the Benjamin L. Hooks Central Library, which is located at 3030 Poplar Ave. TaxAide volunteers will be available Monday through Saturday from 9 a.m. to 1 p.m. through April 15.
Seniors vulnerable to tax scams
According to Pat Bryant, AARP TaxAide coordinator for Tennessee, seniors are less vulnerable to tax preparer fraud because they are unlikely to receive a tax refund.

"If you are just living off social security, you don't even file a tax return. If you have pensions, you end up paying taxes unless you have a lot of it withheld," Bryant said. "Most seniors don't see any special tax advantages unless they work and have dependent children or grandchildren that live with them."

Nonetheless, Bryant said she recently helped someone who was a victim of tax preparer fraud.

"I had a case earlier this filing season where a woman wanted me to help her file an amended return because a preparer had faked self-employment income so she would be eligible for the Earned Income Credit," she said. "Basically, all of her income came from Social Security, so she wouldn't have been eligible for the Earned Income Credit."

Bryant said the Internal Revenue Service referred the woman to her. After Bryant helped the victim prepare an amended return, she said the woman reported the fraud to the revenue service.

Dan Boone, communications director for the IRS in Alabama and Tennessee, said fraud related to Social Security income has occurred sporadically in recent years.

"In 2007, there was a scheme in Alabama where preparers were allowing their clients to get refunds of their social security benefits and that's not allowed," Boone said. "Since that time, I haven't heard about this scheme reoccurring. The IRS is not in the business of taking social security benefits, unless the taxpayer has wrongfully obtained a tax refund."

Christopher Pikelis, special agent for IRS criminal investigations in Arkansas, Tennessee and Kentucky, said tax preparer fraud of seniors occurs more frequently in Miami and Tampa, Fla. However, Pikelis said he pursued previous criminal investigations involving seniors as victims of fraud.

"I investigated one case where a 60-year-old woman defrauded her mother by breaking down financial transactions and eventually brought cars in Utah with the money," Pikelis said. "Fortunately, we were able to repatriate the money back to the victim. You are likely to see the elderly as people who did not initially know they were victims of tax preparer fraud."

Pikelis said although the IRS has worked to minimize tax preparer fraud related to seniors who donate to religious and non-profit organizations, it's difficult for him to determine the success of this operation.

"Obviously, we don't have a trend or pattern. You might see a tax return where the preparer has stated that his or her client has earned $40,000 for a particular year but has also given $25,000 to a church," he said. "It is possible that excessive charitable cash contributions have been recorded in a particular return. Also, some entities will provide doctored receipts that document false donations – it has happened."

Pikelis said it is not unusual for tax preparers to defraud seniors of a portion of their tax refund. In some instances, the preparer, instead of routing a tax refund to a client's bank account, may steal the entire amount owed to a client by the IRS.

"For example, a return is completed and the taxpayer will have $1,500 deposited into his or her account," Pikelis said. "After the taxpayer signs the return, the preparer will write in another group of numbers after the taxpayer leaves and the preparer will receive $2,500 from the IRS instead."

Although the IRS does not endorse specific tax preparers, Pikelis said there are things a client should look for when seeking tax preparation services.

"As a taxpayer, you should be troubled by an arrangement where the tax preparer will work for a percentage of the refund amount," he said. "Also, you should be wary of a preparer who pays cash in advance of a return being filed and those who do not provide you with a copy of the return."

In closing, Pikelis said he wanted to emphasize the role of the revenue service in eliminating tax preparer fraud.

"If the IRS locks in on you, expect to serve time in prison as we have a conviction rate of more than 90 percent. Most people think we will never catch them," he said. "Whenever the elderly are victims of tax preparer fraud, it is especially bad. We do what we can to protect those who do things the right way."