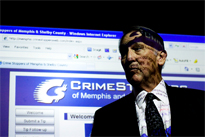 Photo by Christopher Parks
Buddy Chapman – "I believe I can make a difference"

One man scorned and covered with scars still strove with his last ounce of courage to reach the unreachable stars; and the world was better for this."
Don Quixote, de la Mancha by Miguel de Cervantes
by Brown Burnett

Buddy Chapman says the only explanation for his optimism is what he calls a "Don Quixote complex." Chapman, executive director of CrimeStoppers of Memphis and Shelby County, laughs when he says that but for more than three decades, the former Memphis Police Director, like Cervantes' fictional character, has been "tilting at windmills."

However, this 68-year-old modern-day "knight-errant" jousts with crime in Memphis - past, present and future.

"Maybe it's a Don Quixote complex," he said during an interview in CrimeStoppers' tucked-away downtown office. "I have to admit there are a lot of things that worry me in Memphis and I don't see them being solved.

"I HAVE to be optimistic, but it's sometimes a difficult hurdle."

Chapman spends almost all of his time spreading the CrimeStoppers message throughout the city. He tells churches, schools and entire communities that their involvement can help heal Memphis' crime problem.

He particularly works to educate the public about CrimeStoppers' two big programs, Trust Pays, which emphasizes schools, and the new SeniorsBSafe, which focuses on problems of senior citizens.

"Schools are a microcosm of society," he said. "So if we can get the students to trust the faculty, the faculty to trust the student, then we also bring in the community.

"You may hate the schools. You may not have any kids in school, or even knowany kids in school. You may think it's a total mess. But I'm telling you, what comes out of that system affects everyone."

So who is Buddy Chapman, and why does he "tilt at windmills" with this fight against crime?

First and foremost, E. Winslow "Buddy" Chapman is a 1961 graduate of the U.S. Naval Academy and a seventh-generation graduate of either West Point or Annapolis.

His family on his mother's side, the Winslows, came over on the Mayflower and his ancestor, Edward Winslow, was the second governor of Massachusetts.

"Most of the Winslows went to the Naval Academy," he said, absent-mindedly twisting his Annapolis class ring. One of his uncles served as captain of the USS Kearsarge when it sunk the Confederacy's CSS Alabama off the coast of France during the Civil War.

"That was John Winslow, my grandfather's grandfather."

Chapman says his personality, his life philosophy, and, yes, his "tilting at windmills," was formed in the crucible of the Naval Academy.

"The big thing about the service academies is that they are always confronting you with what seems to be insurmountable odds. That's what it's all about."

There he also learned a lot about Buddy Chapman.

"You've got to become very close friends with 'self,' and you and 'self' have to work it out," he said. "You've got to learn to work as a team, but this 'all for one and one for all' stuff goes only so far."

When he graduated from the Naval Academy, however, the 1957 graduate of Bartlett High School joined the U.S. Army, not the Navy.

"I went to the Naval Academy because I wanted to fly. But my eyes weren't good enough and my grades weren't good enough for submarines, so that left me the surface Navy, Army, Marine Corps or Air Force," he said.

"The Army said they'd give me any duty assignment in the world if I'd take my commission with them. So I asked for an armored unit in Germany - they gave me one! "

And that began a "fascinating three-and-a-half years on the East German border" with an armored cavalry unit.

He quickly climbed the ranks and before he was 30 years old was named provost marshal for Anspach, Germany, covering five counties, a "tremendously powerful position."

"My word was law," he said. "I got that post because I had earlier headed up the military police unit for the barracks we were in. It was a problem unit and I had straightened that out and the Army took note of this."

When he left the Army in 1965, he came home to Memphis to run his family real estate and farming businesses and soon found himself running for Shelby County sheriff. He lost that race in 1968 to Roy Nixon, but the seeds for public service had been planted.

Through old family ties, he joined mayoral candidate Wyeth Chandler's campaign team and when Chandler was elected Memphis mayor in 1972, he became Mayor Chandler's executive assistant.

"I served under Wyeth with the express interest of becoming Police Director. After I got out of the Army a lot of bad things about J. Edgar Hoover and the FBI had come out and all that got me to wondering, 'Who's policing the police?' so that's why I got interested in the job."

"I can hear Wyeth now: 'Chapman, you will NEVER be police director, so you need to accept that.'

"But I kept after him. And sure enough, in 1976, he named me police director."

Chapman formed CrimeStoppers in 1981 and left the position of police director in 1983 to return to the private sector. He became head of CrimeStoppers in 2006.

"Certainly things have changed a lot here in 26 years," he said, as his jovial nature turned deadly serious for a few moments. "The biggest thing is the drugs. Drugs are gonna be the end of us as a civilization if we don't grab hold of this thing."

He just laughed when asked if he works a 40-hour work week, and that laugh answered the question. He says he's constantly spreading the word about CrimeStoppers and its programs.

"I really care and I've always had this ability to connect with people. This is such a great city with so much to offer.

"I know I can come across a little strong sometimes, and—sure--I'm an optimist," he said. "It's not always easy but I love doing this. I get to help make a difference."